Fri-YAY!  I am totally doing the Friday dance over here.
First of all – Congrats to all the college graduates this weekend!!!  Welcome to the beginning of the rest of your life.  (wink wink)
I'm especially proud of my SILs (sister-in-laws) Sarah and Stephens who are graduating from UNCW and UNC Chapel Hill this weekend.
And unfortunately I won't get to see my Momma this weekend but we'll make up for it in a few weekends when she gets to put up with me for three whole days!  I love you, Momma!
And Happy Mother's Day to all the momma's out there.
Anyways – back to my favorites from the week!
Favorite One-Bowl Recipe:  Chocolate Chip Coconut Flour Blondies.  I have a bag of coconut flour in the pantry that I keep staring at.  Here's the perfect excuse to pull it out of the pantry and bake.
Favorite Carbs + Cheese:  Goat Cheese Toast with Balsamic and Roasted Tomatoes.  This might just be the most amazing "single girl dinner" ever.  I love toast.
Favorite Fashion:  A Quick Met Gala Recap.  Back in my single days I lived for watching Red Carpet events.  These days I'd rather be cooking.  Actually, let me honest – I'd rather be sleeping because they don't come on until way after my bedtime.  But I still like to look at all the dresses the morning after the event.
Favorite Bite:  Cheesy Party Burgers.  There were a lot of group texts this week with my family about the NFL Draft.  I'm still not quite sure why I was included but it did make me think about tailgating.  Which made me think about food.
Favorite Juicy:  Layered Swing Tank.  Dress it up or dress it down.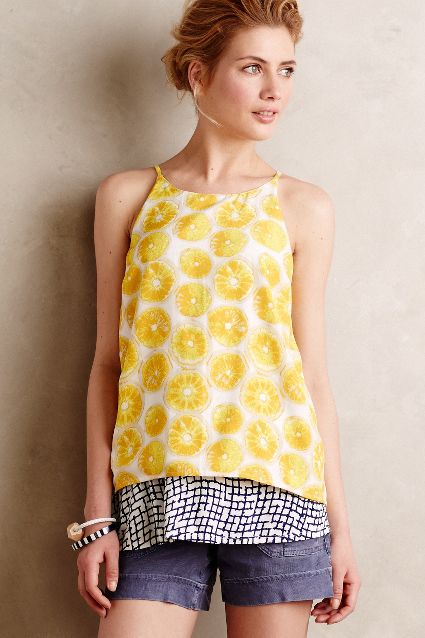 Favorite Retro:  Avocado with Curried Chicken.  This recipe is from 1979 and part of Bev's Rewind Recipe blog posts.  Bev is hilarious which only makes me want to make this dish even more.
Favorite Obsessed:  Four Citrus Coconut Shortbread Bars.  Give me all the citrus these days.  All of it.
Favorite Truth:  No One Talks About the Darkness.  I'm not a mommy but I have a lot of friends that are mommy's now for the first time and friends that are expecting.  And to be honest, being a mommy scares me beyond belief (a fear that I never had until recently).  But Colleen keeps it real (as usual) and she's unapologetic about it.
Favorite Fresh:  Pineapple Cilantro Margarita.  I didn't have a margarita with my enchiladas and now I'm craving one big time.
Cheers!