Picking the ties for the groomsmen is proving to be more difficult than I expected.  So I need your advice.
First things first, here's my vision of the bridesmaids dresses: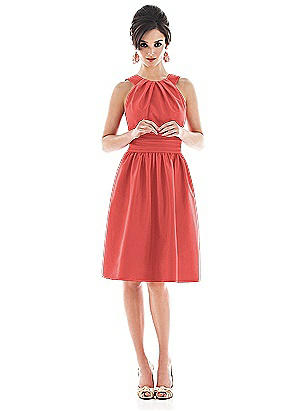 I really love aqua or turquoise paired with this coral color.  Think:
Or:
Or:
Understand what I'm going for?
Well, my vision proceeds to have Big Guy in a coral colored bow tie.  And then have all the groomsmen in a tie that coordinates with the accent color of aqua or turquoise.  We're not having much luck.
Vineyard Vines has a tie color called "raspberry" that is as close to coral as we're going to get without looking like cheap satin (no, no, no, no….).
Big Guy actually owns that exact print in a bow tie.  He could wear that and get the groomsmen the above tie.  They'd match, which wouldn't be my vision, but they'd coordinate.
Or we could get this bow tie – which claims to be raspberry like the crab tie – for Big Guy.   But they don't have a coordinating tie for the groomsmen.  All they have is green.
Or navy.
Big Guy also really likes this bow tie:
But it's not coral.  And it's not aqua, either.
So what do I do, what do we do?
I need YOUR advice.